The Mainstream CO2 Sensor C500 is designed for mainstream measurements using sophisticated infrared absorption spectroscopy to measure ETCO2 with mainstream, measurements are taken directly at the patients airway, so response is faster and there is less chance of erroneous, artifact data. The analyzer portion of the sensor cannot be contaminated with patient secretions, and there are no pumping or pneumatic components to replace. Maintenance requirements and overall cost-of-ownership are minimized. Our exclusive family of airway adapters are easy to use and durable enough even for long-term ventilator patients. Yet, they are inexpensive and disposable.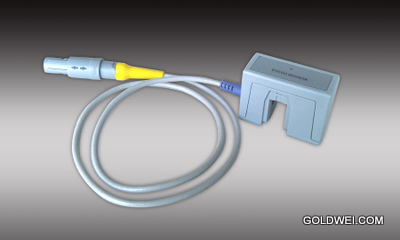 The Mainstream CO2 Sensor C500 can be integrated with other components, software packages and accessories, making it easy for you to configure your patient monitoring systems with state-of-the-art respiratory management and analysis technology now and into the future.
Below is a list of monitor brands, some of their models use the Respironics CapnoStat5 CO2 sensor, for those monitors, you can use our mainstream CO2 sensor model C500 directly without any problem, you don't even have to change anything on the software.
AirSep, Inc. U.S.A.
BioMed Devices U.S.A.
Dixtal Biomedica Ind. Com. LTDA.Brazil
Draeger Medical USA
Fukuda Denshi Japan
GE Medical Systems Information Technology U.S.A.
Ingmar Medical, Ltd.U.S.A.
Integrated Medical U.S.A.
Larson & Toubro India
Maquet Sweden
Medical Systems Ltd. Russia
Philips Medical U.S.A.
P.P.P. EmtelPoland
Sartorius AGGermany
Sharn Veterinary U.S.A
Spacelabs MedicalU.S.A.
TaemaFrance
Vetronics U.S.A.
Vetspecs U.S.A.
Witt BioMedical U.S.A.
ZOLL Medical Corporation U.S.A.

Transducer Type

Mainstream CO2 Sensor

Principle of Operation

Infrared Spectroscopy

Energy Emitting Device

Proprietary High Efficiency IR Source

Energy Detecting Device

Frequency Stable Thermopile

CO2 Measurement Range

0% to 20%

CO2 Resolution

0.1 mm Hg 0 to 49 mm Hg

0.2 mm Hg 50 to 150 mm Hg

CO2 Accuracy

±2 mm Hg @ < 5.0% CO2 (at BTPS)
< 10% of reading @ > 5.0%CO2(at BTPS)

Dimensions

50mm*22mm*36mm

Weight

< 40g

Breath Rate Range

2 to 150 Breaths Per Minute (BPM)

Respiratory Rate Accuracy

±1 breath

Calibration

No routine user calibration required, but module can be calibrated by user

Data Interface

Highly configurable serial digital interface (TTL/RS232 Level)

Data Output

CO2 gas concentration (mm Hg), End-tidal CO2, Inspired CO2, Respiratory Rate.

Input Voltage

5.0 VDC ±5%

Power Consumption

400mW

Warmup Time

10 seconds

Response Time

Detector: 20mSec (Typical)

System: 200mSec(Typical)

Operating Temperature

5º to 50ºC

Shipping/Storage
Temperature Range

-40º to 70ºC

Interconnection

Standard Lemo Redel 8-pin plastic
Material PSU
Sensor Plug: PAB.M0.8GL.AC39GZ
Band Relief: GMA.1B.030.DJ
Host Receptacle: PKB.M0.8GL.LJ

Note:

Pin out:

1 VA 5.0V
2 Shield Shield
3 DGND Digital return
4 VA 5.0V
5 TxD Serial data from the Module
6 RxD Serial data from Host
7 AGND Analog return
8 NC

Shock Impact

IEC TR 6 0721-4-7 Class 7M3 (designed to withstand environments subject to significant vibrations or high shock levels)

EN6 0068-2-27 Shock

EN60068-2-64 Random vibration

Regulatory

Designed to meet IEC 6 0601-1-2 , EN55011 ?CISPIR 11 Class B (Radiated and Conductive Emissions),

IEC 6 1000-4-2 Electrostatic Discharge Immunity, IEC 6 1000-4-3 Radiated Immunity, Designed to comply

with 93/42/EEC (MDD CE Marking), FDA Standards, Minimum Performance and Safety Requirements for

Capnometers and ISO21647. Medical Electrical Equipment performance requirements for the basic safety

and essential performance of respiratory gas monitors.
There are no documents download yet.